ShowMotion means Retail Design for interior finishes
The ShowMotion team provides a Retail Design consultancy service to manufacturers and retailers of interior finishes who intend to develop a concept or revise an existing format.
We are commissioned directly by our customers: architectural design of the point of sale, planning of layout and display equipment, settings for various product categories, choice of decorations, communication and graphic design. OWe also offer a lighting design service and, if necessary, also an external façade and shop window design service.
Nowadays, we can use digital media to directly engage with the point of sale and the brand. We support customers by meeting their individual and more specific needs when it comes to getting information and purchasing advice.
A targeted display concept is at the heart of a successful showroom
In fact, the showroom is a work tool. It is the cornerstone of the interior finishing retail business. All retailers, whether they sell tiles, ceramic tiles, bathroom fixtures, doors, windows, frames or parquet flooring, need to optimise their display areas and create a winning display.
The first step to achieving these goals is planning, relying on professionals to design the exhibition concept.
First impressions matter. Always.
End customers must be at ease as soon as they enter the premises, since the first impression is crucial. This positive experience must continue throughout their stay at the store. The routes and product display systems must be functional, allowing both staff and customers to quickly find the solution they are looking for.
At ShowMotion, we help entrepreneurs who are planning to open a new point of sale or renovate or expand an existing one.
ShowMotion considers design to be a "project culture", which is our calling card on the European and global market. We offer our customers a special ability, which is being able to solve complex problems: design is synonymous with beauty, but especially with functionality and market research.
The fact that we are based in the very heart of one of the world's most renowned ceramic production districts has always been a major advantage for us, as we are in direct contact with numerous tile and ceramic manufacturers. An equally important factor is that we have long-standing partnerships with manufacturers of interior doors, front doors, windows, parquet and wooden flooring, and bathroom fixtures in Italy, France, Germany, Russia and in several other European countries.
For us, Italian design is also about being able to adapt our products to the needs and preferences of different types of customers, which is a key factor both for our international customer base and for our extremely diverse product range.
The link between tradition and innovation is also of the essence: the abilities that today's designers and craftsmen possess have been honed through centuries of handed-down knowledge. We are committed to projecting them into the contemporary world since our aim is to always be able to meet specific and ever-evolving needs.
FINANCING
Many manufacturers offer shop-in-shop company corners that often have a different purpose than that of retailers. In this way, manufacturers can promote their brand, keep their collections of samples separate from similar products offered by their competitors, and keep retailers loyal to the company for years with repayment plans based on turnover.
Retailers who have their own homogeneous setup can:
be more independent from a business point of view
organise collections of samples by product type
create an aesthetically attractive display without confusing end customers
Some retailers see the cost of investment as an obstacle. However, setting up a showroom independently does not mean that you simply have to do without the contribution of manufacturers.
ShowMotion assists its customers by advising and providing assistance in their negotiations with suppliers so that they can get as much support and help as possible.
CONSULTANCY FOR WORKS AND PRODUCTS
New showroom, new challenge.
Every building is different and a large number of issues can pose both risks and opportunities at the same time. In the initial phase of the project, we help our customers make critical choices such as those regarding structural work, heating and air conditioning, fixtures, building floors, false ceilings, fire protection and safety. Each of these points is a key factor when it comes to the project budget.
The right goods for different target customers
Our sales and design team is able to advise entrepreneurs on the assortment and range of products. We are familiar with the market, manufacturers and their specific requirements. Whether you are looking for alternative suppliers or are looking to integrate, upgrade or expand your product portfolio, we are ready to offer you our expertise and knowledge of the interior finishing market. Free of charge.
PRELIMINARY DESIGN
Communication starts by lending a listening ear
Preliminary design is the first tangible step towards creating a new showroom.
Depending on the project, we inspect the premises and analyse the context.
We listen to our customers, steering the conversation towards our list of specific questions. The aim is to methodically gather detailed information: products to be displayed, what the company's staff need, which target customers the company wants to do business with, and any unique and exceptional specifications for the project concerned.
Our architects and designers, who are among the best in the industry, create customised design solutions based on the information gathered during the interview.
During the concept phase, functional and operational requirements, budget, location, catchment area, compatibility between the clientele and the product on display and, last but not least, corporate image are all taken into account.
We keep abreast of developments and innovations in sales support systems, especially when it comes to interactive and digital systems, which we then specifically integrate into the design phase.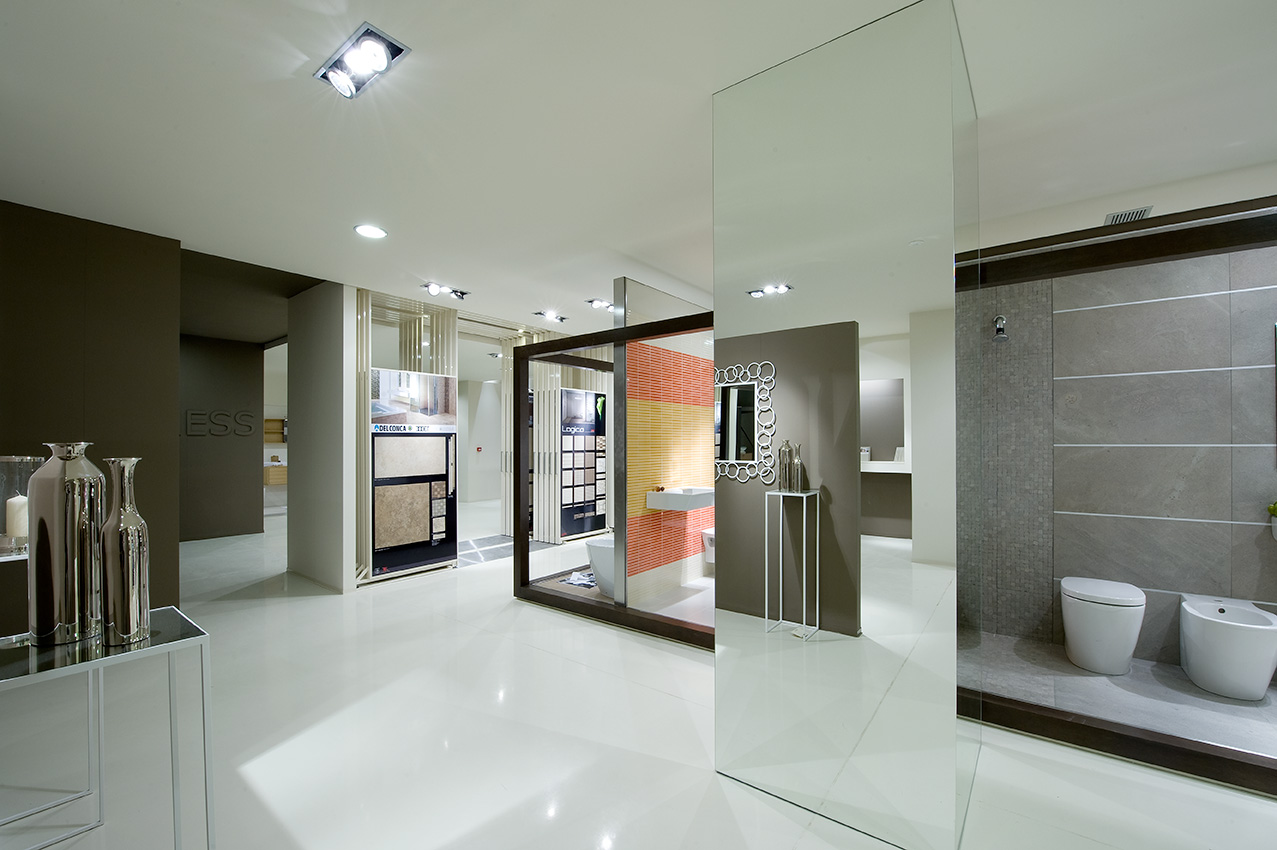 Discussion, dialogue, review
We use plans, elevations, perspective views, 3D renderings and archive photos to show our ideas to our customers. Presenting the conceptual design is a starting point. From here on, it is essential to establish dialogue with our costumer in order to finalise the creative part of Retail Design.
Going from "what" to "how"
Once the final layout has been defined, and the materials and colour combinations have been chosen, we move on to preparing the executive drawings and engineering the furnishings. In this phase, we structure our communications with the customer in a schematic way in order to ensure everything runs smoothly and quickly.
On request, we can also provide executive drawings of works, such as plasterboards and wiring diagrams.
When requested, we can also provide the executive planning part, separate from the sale of the furniture itself (see DIY).
LIGHTING DESIGN
We highlight your showroom
When it comes to display areas, lighting is of paramount importance. First of all, collections of samples must be illuminated with an artificial light that resembles natural light as much as possible and enhances the characteristic features of the products on display. Moreover, a lighting system accounts for a large proportion of the investment budget and is also a major operating cost.
Moreover, a lighting system accounts for a large proportion of the investment budget and is also a major operating cost.
Light Design by ShowMotion
Nothing is left to chance. Our designers develop a comprehensive Light Design project that matches the furnishings plan and the products on display. Depending on the characteristics of the building, we provide details of the type of luminaires and how they will be laid out. We provide our customers with technical drawings and, if necessary, ensure coordination with the customer's appointed installers.
If required, we can also supply and install luminaires.